---
Funded by the Austrian Science Fund (FWF, ORD-68), we calculate and provide tropospheric delays and models as open access data. This server replaces ggosatm.hg.tuwien.ac.at, which will be shut down in March 2019. The portfolio of tropospheric delays and models provided here is significantly enhanced compared to the previous version. A manual on the usage and application of the troposphere products can be found in the readme.txt.
Troposphere delay model data
Contains all data files of the discrete troposphere delay models:
Contains all codes and functions required for the application of the troposphere delay models.
Contains ellipsoidal coordinate lists of stations and grid points for which the discrete troposphere delay models are valid.
Atmospheric pressure loading (APL) data
Contains tidal and non-tidal APL data on a global 1&degx1&deg grid
Ray-tracing data
The VMF data server provides a tool for the creation of individual ray-traced delays for observations in the microwave spectrum. Users just need to set input parameters and will receive the computed ray-traced within minutes by mail.
The Fortran code of our ray-tracer RADIATE (also referred to as VieVS Ray-tracer) is also available for download via GitHub. Thus users can determine ray-traced delays on their own, provided that they have the respective numerical weather model data in the required text format available.
The VMF data server also provides ray-traced delays for each single VLBI observation since 1980. They are available in two formats, which are described in the readme.txt. Please mind that recent observations might be missing due to delayed provision of the respective VLBI data.
---
Documentation
readme.txt: contains a description about the usage of the homepage
Publications:
---
Structure of the troposphere delay models
The following two organigrams give an overview of the structure of the troposphere products.
---
Exemplary VMF3 data for Wettzell (Germany), during the past 4 weeks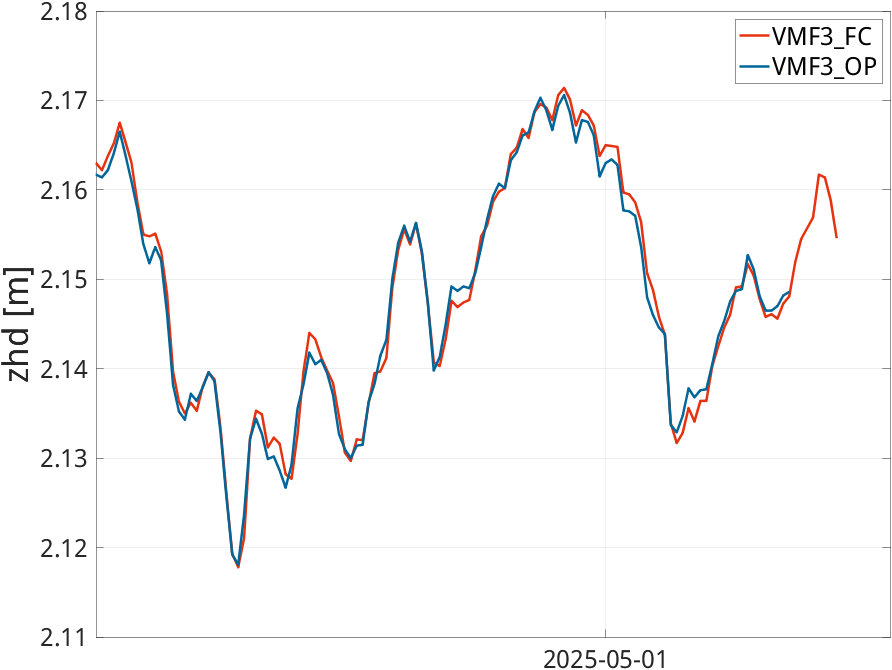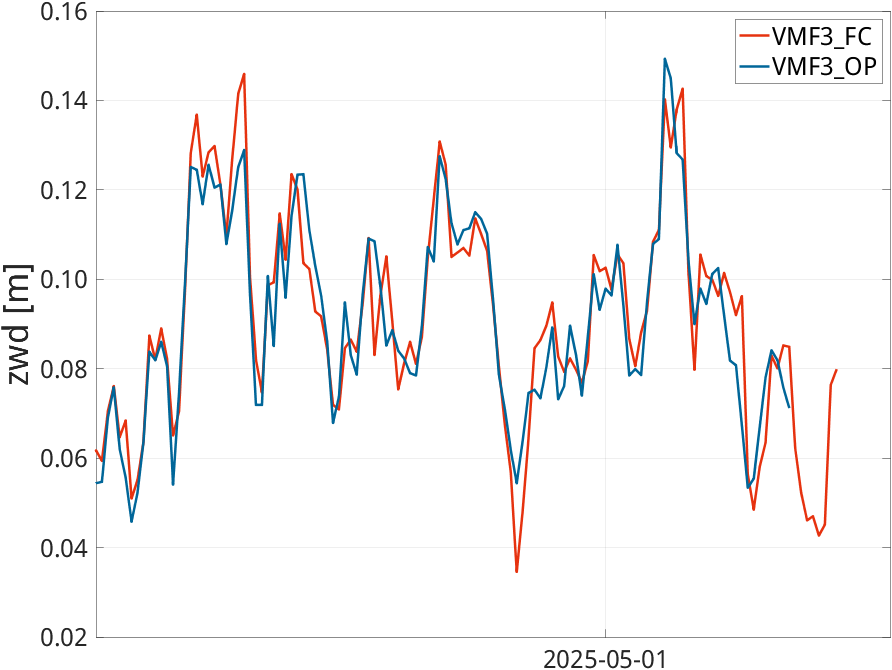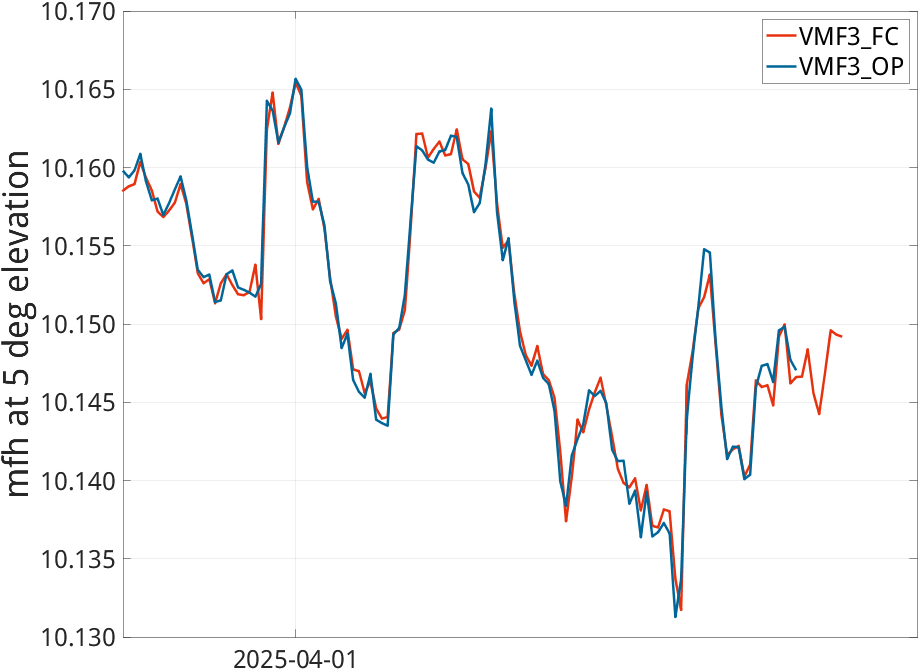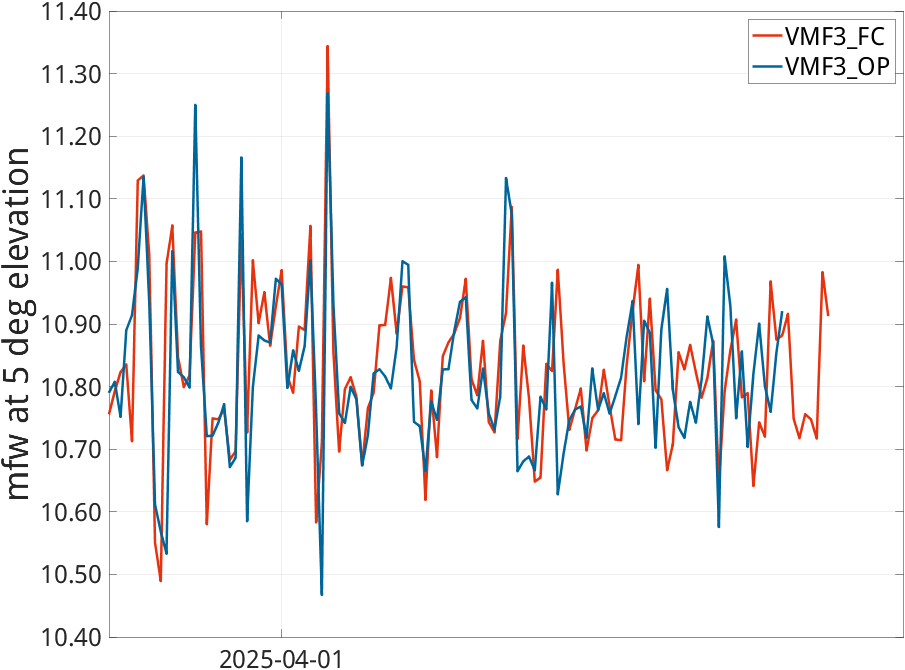 ---
Recommendations
For a large number of mjd's, the application of gpt3_1.m / gpt3_5.m / gpt3_1.f90 can be very time-consuming, in particular the 1°x1° version. The reason for that is that the underlying data grid is opened and closed in every run. When using MATLAB, the routines gpt3_1_fast.m / gpt3_5_fast.m together with gpt3_1_fast_readGrid.m / gpt3_5_fast_readGrid.m can be used instead.
For VLBI, GNSS or DORIS analysis, the site-wise VMF3 data is of considerably higher quality than bilinearly interpolated grid-wise VMF3 data. The cause lies in the conversion of the zenith delays from grid height to station height. For the hydrostatic part, an empirical model is used for the conversion, but for the wet part only a rule of thumb is applied, due to a lack of more accurate models.
The site-wise GRAD data can be very well approximated by bilinear interpolations of the 1°x1° GRAD grid. Using the 5°x5° GRAD grid instead may be distinctively faster, but the quality of the interpolated gradients (particularly the wet part) is significantly lower.
---
Contact
Johannes Böhm, Daniel Landskron, Janina Boisits

Research Division Higher Geodesy
Department of Geodesy and Geoinformation (E120-4)
Vienna University of Technology (TU Wien)
Gusshausstrasse 27-29
A-1040 Vienna, Austria
vmf@geo.tuwien.ac.at